CommissionSpot™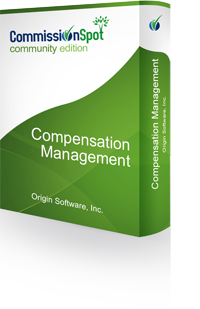 Your One Stop Compensation Management Solution
Tracking and paying out commissions to salespeople in lending institutions can become a complex, expensive, and difficult to manage process. Naturally, lenders want to keep commission management expenses low, they want their sales people happy and motivated, and they want visibility into commission pay outs.
Traditionally, organizations have been ailed with managing a multitude of variable-based, complex commission sales structures using manual processes that involve Microsoft Excel and internal resources. That's why Origin Software is offering CommissionSpot™, the industries most powerful and user efficient compensation management and tracking module on the market today.
Built based off of mortgage industry expertise and leading-edge technology. CommissionSpot™ has been engineered to be the most robust compensation management solution on the market today. CommissionSpot™ is designed with the specific goal of administering the costly, cumbersome commission management process — from accounting payout to tracking, forecasting, performance guidance, reporting and the actual payment of simple to complex compensation plans associated with commission-based sales forces. Production managers and accounting staff can rest assured that CommissionSpot™ establishes logical, accountable process flows that deliver next-level commission tracking and management efficiency throughout the enterprise.
Effective Commission Management
It is critical to provide an organization's sales force with timely and accurate visibility into their receivable commissions. This improves morale, builds trust and sends a message to salespeople that management appreciates and places high value not only on closing sales, but also on the efficient, accurate and timely payment of compensation for their efforts.
Using CommissionSpot™, valued sales reps now have on-demand commission payout information at their fingertips via web or email. Sales people are now empowered with easy-to-use web-based tools that provides them with monitoring of their commissionable pipeline, visibility into the processing of earned transactions, and tracking capabilities of their results against the incentive-based metrics established within their specific compensation plans. As a result, employees know where they stand at any given time during the month, quarter, or year.
Accounting & Administration Savings
CommissionSpot™ was developed based off years of experience understanding the pains and problems that accounting departments and compensation administrators must face when dealing with large, potentially fluctuating sales forces, which tasks them with handling thousands of transactions a month that are unique in characteristics and payable over several complex compensation formulas. Through robust and user friendly web based administrator screens, CommissionSpot™ completely automates and streamlines this normally labor intensive process by seamlessly linking the organization's sales, accounting and/or operational platform. The result is newfound visibility across the enterprise for all areas that have a defined interest in a specific transaction.
Accounting for sales related reimbursable expenses or post transaction commitments is now automatically and efficiently captured and then systematically accounted for throughout the payment process.
Detailed Reporting
For the overall sales force as well as for senior management, having on-demand access to robust sales reporting information in multi user-defined formats is critical in helping determine sales force ranking, earnings, pipeline earnings, and also bonus or incentive determination. CommissionSpot™ offers dynamic charting as well as an entire reporting section that not only provides beneficial data to sales performance monitoring but also for accounting personnel to have immediate access to past data that is often helpful in dispute resolution, rapid response to sales force inquiries, and internal auditing functions.