ViewerFX® for Crystal Reports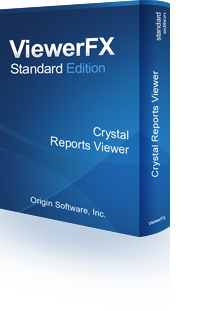 Your One Stop Crystal Reports Viewer Solution
Reporting is the foundation of an enterprises strategy - it provides users the most-requested pieces of information reliably and securely. ViewerFX® is a dynamic Crystal Reports Viewer that helps you explore, visualize, and deliver reports to your customers - quickly and easily.
Users can manage data and create visual compilations that can then be printed, emailed, or exported to other areas outside the Crystal Reports Viewer. It also allows you to set and maintain controls so your users get only the features and information they need. Fast and easy, the Crystal Reports Viewer fuels necessary business reporting processes with the utmost in functional accessibility.
With ViewerFX®, your IT department will no longer spend time running and distributing reports to your end users. Your business can then maximize its reporting capabilities and establish a unified way for your staff to pull data from a single application in a consistent manner.
Key Features
ViewerFX® for Crystal Reports provides several key features that set it apart from the competition:
Interactive Report Viewing - With ViewerFX®, users are not limited to just viewing their reports they've created. Each report can be configured to include optional parameters which allow for more complex user-driven filtering without the need to re-query the server. Recipients of these reports get consistent on demand information. By simply refreshing data visualizations, they can pull updated statistics at anytime they choose.

Report Organization - Utilizing the bookmarker editor, users can quickly mark and access the reports they need, when they need them. Bookmarks can be managed by either the end user or your IT staff to create a consistent view of reports available for use.

Connection Management - Allows users to connect with different data sources so that they can easily compare information in multiple areas.

Exporting - Capable of rendering reports in several industry standard formats, ViewerFX® is adaptable for any industry.

Delivery - Deliver your reports faster and more securely to your customers. With a wider range of delivery options (print, export, email, and ftp), ViewerFX® puts you in control of your Crystal Reports data.

Security - Enable your IT staff to lock down viewer functionality to a user, group, and/or organization by utilizing the built-in configuration editor. Have total control of what your end users can do and see to prevent any of your proprietary data from leaving your organization.

Encryption - Email and FTP your reports in confidence by utilizing the powerful report compression and encryption technologies built-in to ViewerFX®.

Compatibility - With the capability to view Crystal Reports created over the last decade ViewerFX® offers one of the widest ranges of version compatibilities available on the market today.

Outlook Contacts - Tap into your Outlook contacts by emailing reports directly from within ViewerFX®.
ViewerFX® is a leading tool that is essential in offices everywhere! Find out why others consider it the very best software add-on for Crystal Reports every made. Download Your Free Trial Now!